About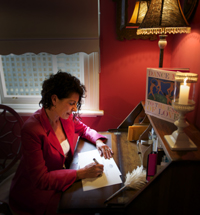 I'm a professional Civil Celebrant qualified to deliver ceremonies to meet the needs and purposes of all your special occasions. Like many of us I thrive on the anticipation and excitement of new beginnings with charm, elegance and a sense of fun.
I am native to Melbourne and have been involved in The Media and Fashion Industry plus being married to an entertainer and producer, public speaking, organisation and professionalism come naturally to me. I know and believe success is always in the details therefore I am always well tuned in to listen to you and understand your personality to make the ceremony prefect for you and your day. No matter what needs arise I am happy, willing, friendly and confident that it will all run smoothly from the very beginning until the very end. I promise you my commitment all the way.
I have completed a Diploma of Marriage Celebrancy at The International College of Celebrancy and keep up to date on new developments, trends, and practices by attending Ongoing Professional Development courses and regular meetings from three different organisations of which I am a member.
The International College of Celebrancy Alumni and Friends Association (ICCA), The Association of Civil Marriage Celebrants of Victoria (ACMCV) and Celebrants Australia.
"
We can't thank you enough for helping us make our day so spectacular and well organised. We were very impressed with the your passion for your job and your great organisational skills. The day ran so smoothly and we had a fantastic time!
Adrian and I want to give you this gift to thank you for all the time and effort you gave in telling our family friends 'our story'. Our wedding celebration wouldn't have been the same without you. Your were great right from the start to the end. Thank you so very much!
Thanks for making our day so wonderful. The ceremony was just perfect and we have recommended you to many of our friends. Thanks again for everything, we couldn't have asked for more.
Shannon and I would like to thank you for understanding and representing our spiritual and personal values in such a unique, practical and down to earth manner. Our guests felt that all elements we were looking for were met and represented our lives perfectly.
We just want to say how grateful we are for the wonderful service you mapped out for us. It was just the right length with all the special elements we wanted, we couldn't have wished for more. Thanks again!
"